Sokuichi Gibu
Hanshi/ 10th Dan
Okinawa Shorin-Ryu Butokukan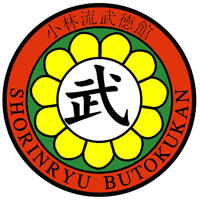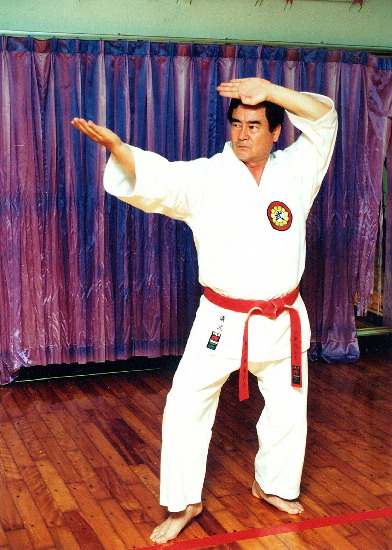 In Memory and Tribute
1941-2012
In August of 2012, the Okinawan karate community and world lost one of it's greatest Shorin-Ryu masters, Sokuichi Gibu. So much could be said of his incredible history as a karateka and a sensei but those who were blessed to know him and train with him will treasure his beautiful and kind heart. He will always be remembered for his ever-present smile and his dedication to daily training and teaching of Okinawan Shorin-Ryu Karate.
His incredibly talented son Makoto Gibu will continue his father's amazing karate legacy as the new Kaicho of the Butokukan and pass on the amazing karate that Gibu Sensei dedicated his life to developing.
Sokuichi Gibu was born in Chinen Village in Southern Okinawa on December 7, 1941. He began studying Goju-Ryu at age 14 and then in 1956, began studying with Shorin-Ryu Master Shugoro Nakazato.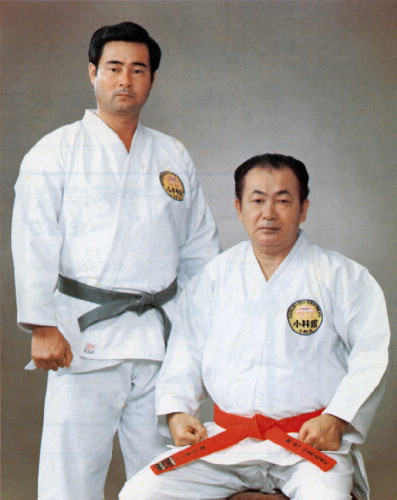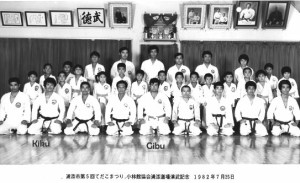 After years of dedication to his teacher and his dojo, Nakazato Sensei awarded the first 8th dan in the history of the Shorinkan to Gibu Sensei, who served as the vice-president of the organization.  He built his own dojo, called the Butokukan, in 1979 in Urasoe City where he has since taught every week. Gibu Sensei was considered one of the toughest fighters of the Shorinkan but was considered to also be a master kata technician whose form "mirrored that of Nakazato Sensei."In 1991, Gibu Sensei resigned from the Shorinkan and started his own association, Okinawa Shorin-Ryu Butokukan. The style followed the same curriculum as his teacher, Shugoro Nakazato and was recognized by the Zen Nihon Karate-Do Renmei whose members included such karate greats as Shoshin Nagamine, Kanei Uechi, Meitoku Yagi and Yuchoku Higa.

In December of 2005, Hanshi Gibu was promoted to 10th degree black belt/Judan by the Zen Nihon Karate-Do Renmeiat the Butokukan Hombu dojo and a celebration of this great achievement was held at the Ginowan ANA hotel in April of 2006. He was later also recognized and promoted to 10th dan by the Okinawa Karate Association alongside his contemporaries Morio Higaonna(Goju-Ryu) and longtime friend Naoboru Ahagon who were also promoted to 10th dan.

Gibu Sensei was well known for his incredible strength, spirit and was considered one of the most talented instructors of his generation however he was probably more recognized for his humbleness and kind nature towards every person he meets.

Gibu Sensei kept his organization very small in hopes to avoid commercialization and politics. Outside of Okinawa, he granted only membership to three shibu dojos; Argentina, South Africa and the United States.

A well-respected businessman, Gibu Sensei was also a devoted husband with a beautiful family. His son. Makato, follows in his father's footsteps by having extremely strong karate and his famous father's kind nature. Gibu Sensei was blessed with four grandchildren, two of which practice karate at the Hombu dojo and are very gifted karateka.

Gibu Sensei passed away in 2012. Please see his tribute page here.
Historical Pictures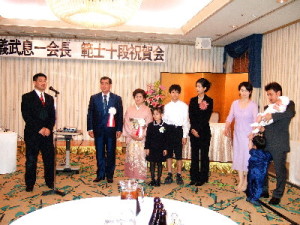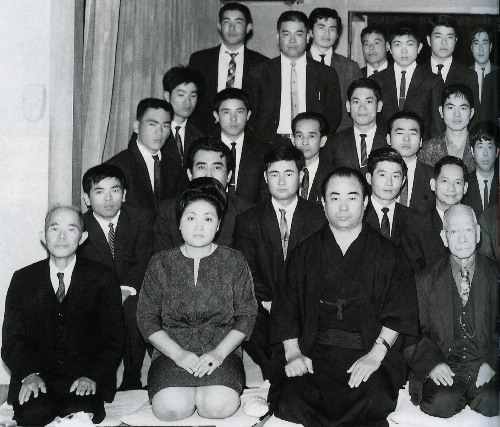 Front Row: Nakama Sensei, unknown, (second row next) a young Sokuichi Gibu, Katsuya Miyahira, Chosen Chibana
Shorinkan Aja Dojo, 1969Left of Center: Sokuichi Gibu; Shugoro Nakazato; Masaru Yonamine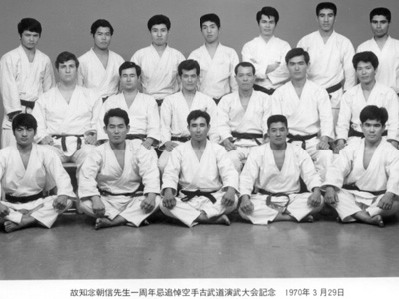 Middle Row Second from Left: Sokuichi Gibu; Tadashi YamashitaBack Row Third from Right: Jiro Shiroma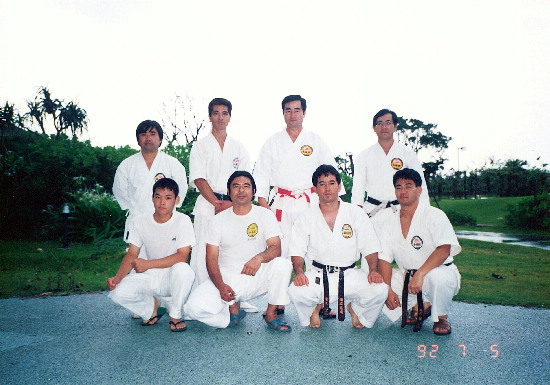 Front Row: Daigo Shimabukuro; Tsuyoshi Tamaki; Hisashi Izumi: Makato GibuBack Row: Unknown; Naka Sensei; Sokuichi Gibu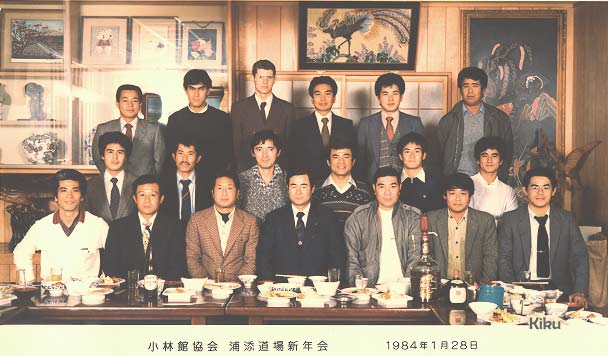 (picture courtesy of Kikukawa Masanobu Sensei.Victoria Shinko-Kai)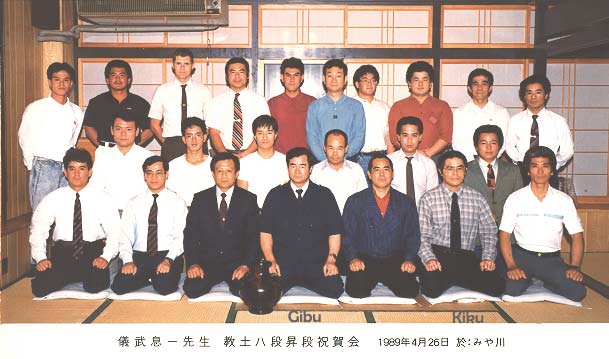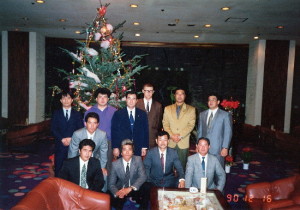 (picture courtesy of Kikukawa Masanobu Sensei.Victoria Shinko-Kai)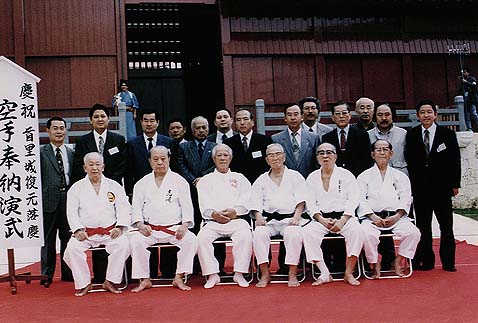 Shuri-Jo Masters DemonstrationBack Row Third from Left: Sokuichi Gibu
Kinjo Kempo;Gibu Sokuichi ; Nakazato Minaru, ; Nakazato Shugoro; Yonamine Masaru,; Nakaza Seii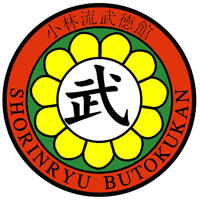 1991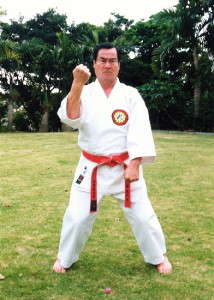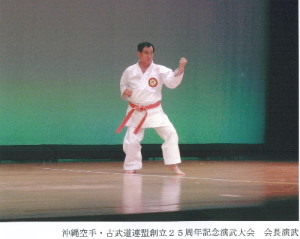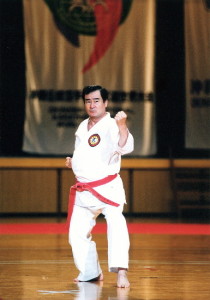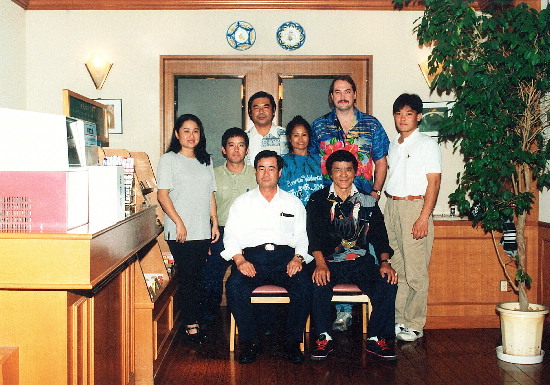 Sokuichi Gibu with childhood friend, Tadashi Yamashita-1980'sRear(left to right)Sumino Sunagawa, Hisashi Izumi, Tsuyoshi Tamaki, Rocky Stolsmark, Neil Stolsmark, Daigo ShimabukuroFront( Sokuichi Gibu, Tadashi Yamashita)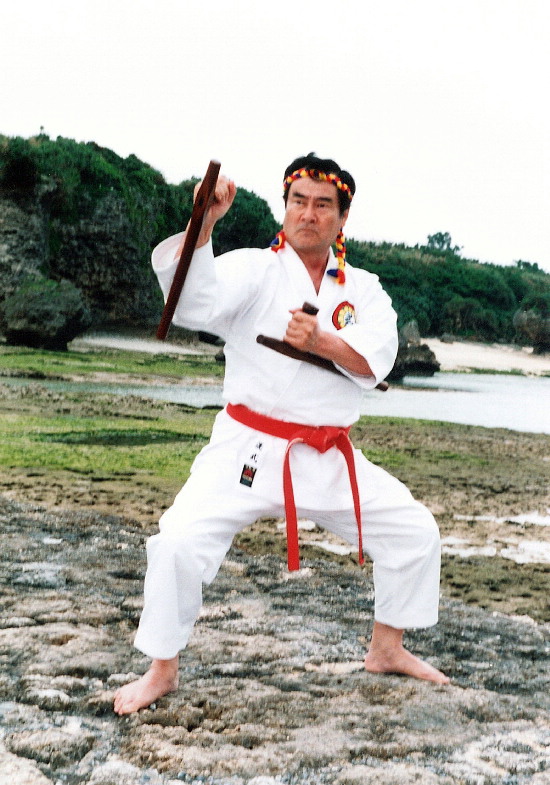 Gibu Sensei with his favorite kobudo buki(tonfa)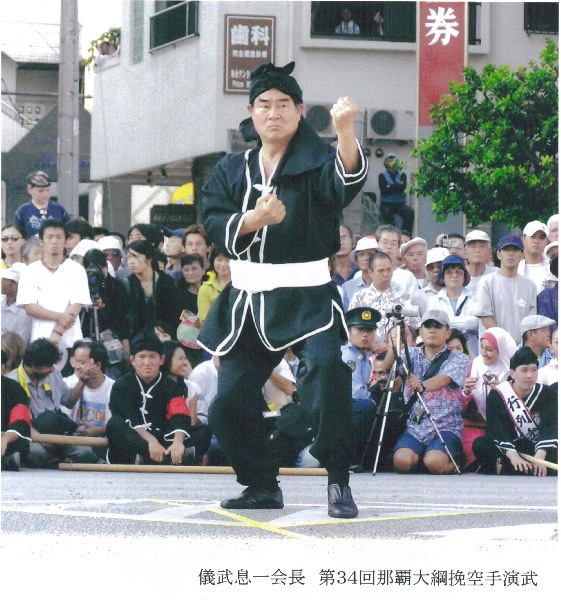 Gibu Sensei demonstrating kata at the annual Okinawa Tsuna Hiki(Naha Tug of War)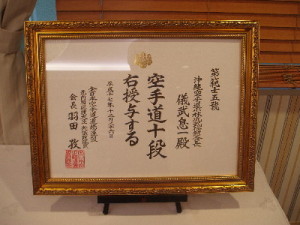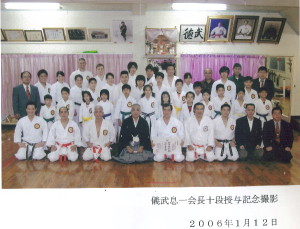 Certificate of 10th dan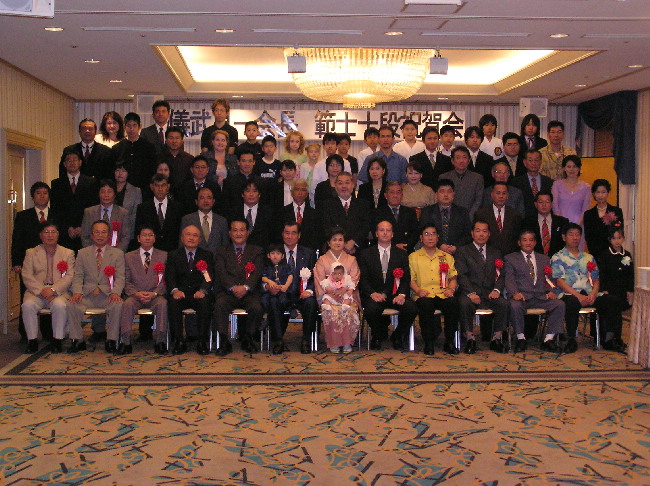 10th dan Embukai April 2006